Your Body Quenching, Travel-sized Set
Have you met our brand-new sensitive skin care gift set? Introducing the Discovery Set, filled with 15ml minis of all your favourite Farmologie products: body moisturiser, bath soak, body wash,and hand cream, and available in our two zesty scents, Moro orange and pink grapefruit!
This set is designed to be a perfect gift, but it's also great if you're fearful of fragrance and want to test our lightly scented products before committing to the full-sized range!
Still Skin Soothing
All products within the Discovery Set are formulated with our star duo of colloidal oatmeal and oat oil, which are clinically proven to soothe and nourish even the most sensitive skin – in fact, in our independent user trials, 99% of testers with dry, sensitive, or eczema-prone skin agreed that these products caused no irritation, and 87% said the range left their skin feeling moisturised and nourished.
Want to learn more about our star ingredients? Head to our oat ingredient spotlight to learn more about why this pairing is so efficacious!
Always Planet Protecting
At Farmologie, we pride ourselves on our sustainable and ethical values, and our new Discovery Set is the latest in a long line of planet protecting products! The full Farmologie range is totally vegan and cruelty-free, and the Discovery Set itself uses 100% recyclable card for the packaging and 70% PCR (post-consumer-recycled) plastic for the tubes.
Head over to our kind to planet page if you're keen to learn more about sustainability at Farmologie.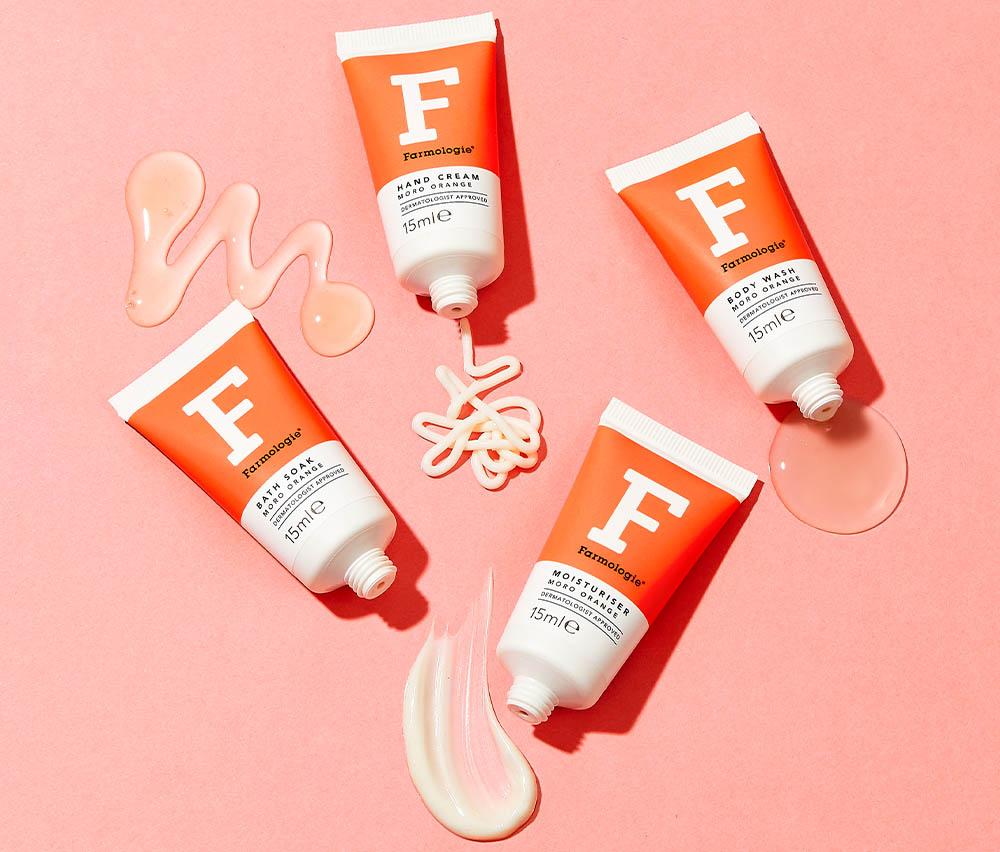 Your Faith Restoring Sensitive Skin Care Regime
The perfect skin soothing bath time routine? Say no more – and it's all in one handy set!
Pour a generous glug of our bath soak underwarm, running water – the more generous, the more bubbly - just remember to keep water warm rather than piping hot, as this is less drying for your skin.
Once you've had a relaxing soak with the uplifting scent of your choice, pour our zesty body wash into your hands to create a foam, and gently rub over your skin - make sure to rinse thoroughly to prevent irritation!
The best time to moisturise skin is after a warm bath, so pat skin dry with your towel (never rub!), and smooth a cherry-sized amount of moisturiser on in a downward direction, paying special attention to areas prone to dryness.
Our top tip? Reapply moisturiser throughout the day on dry areas – and don't forget to use hand cream every time you reach for your hand sanitizer!
Whether you're looking to try a new scent, picking up a gift for a loved one, or just need some minis for your next trip, our Discovery Sets are the perfect solution! The only question is, which scent are you going to bag first?
0 comments
post a comment